MANY CONGRATULATIONS TO SEVEN-TIMES WORLD CHAMPION LEWIS HAMILTON WHO WON HIS 100TH RACE AT THE RUSSIAN GRAND PRIX ON 26TH SEPTEMBER 2021…!
HIGHLIGHTS OF THE RUSSIAN GRAND PRIX 2021
IT WAS A SUPERB RACE, BECAUSE IT HAD BEEN RAINING THE DAY BEFORE AND THE CONDITIONS HAD BEEN SLIPPERY SO NOBODY REALLY KNEW HOW IT WOULD ALL PAN OUT. (INDEED, LEWIS HAD SKIDDED OFF THE TRACK THE DAY BEFORE AND DAMAGED HIS FRONT WING.)
BUT THE CLOUDS PARTED AND THE SUNLIGHT POURED IN AT THE BEGINNING OF THE RACE, ALLOWING THE DRIVERS TO LINE-UP, RARING TO GO.
RED BULL HAD GIVEN MAX VERSTAPPEN A NEW POWER UNIT, SO HE STARTED AT THE BACK OF THE GRID, BUT STILL MANAGED TO WEAVE HIS WAY THROUGH THE PACK AND UP TO THE PODIUM.
RUSSIAN GRAND PRIX 2021

WHEN YOU HEAR THAT SOCHI IS A 'SEASIDE RESORT', YOU DON'T ACTUALLY REALISE HOW CLOSE THE TRACK IS TO THE SEA UNTIL THE CAMERA PANS ONTO IT! SO WHEN PEOPLE SAY "THERE ARE A FEW SHOWERS OUT AT SEA, WHICH MAY BE HEADED THIS WAY" THOSE 'NOT IN THE KNOW' MIGHT NOT REALLY TAKE TOO MUCH NOTICE. SHORTLY AFTERWARDS, THE DRIVERS WHO WERE 'IN THE KNOW' IMMEDIATELY STARTED PITTING FOR DIFFERENT TYRES – BUT NOT LEWIS AND LANDO!
SOCHI RACING TRACK

THEY WERE LOCKED INTO A DUEL BY NOW AT THE FRONT OF THE PACK, NEITHER WANTING TO STOP AS IT WAS TO BE LEWIS'S 100TH WIN, AND LANDO'S 1ST.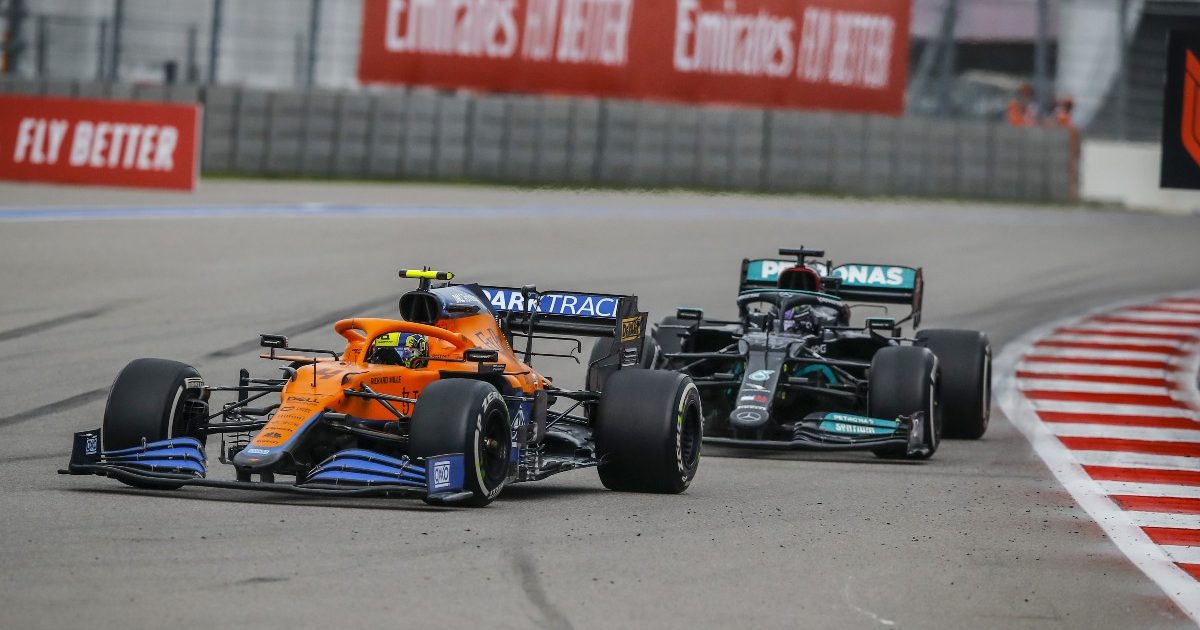 LANDO'S TEAM REQUESTED THAT HE COME IN FOR NEW TYRES AND HE SHOUTED BACK "NO"! (WHICH WILL ALWAYS BE A MEMORABLE, AND HUMOROUS GRAND PRIX MOMENT FROM HEREONIN.) LEWIS WAS ALSO ASKED TO BOX FOR NEW TYRES, AND REFUSED AT FIRST, BUT EVENTUALLY BOWED TO HIS TEAM'S SUPERIOR KNOWLEDGE, AND AS IT TURNED OUT, MADE EXACTLY THE RIGHT CALL!
HEARTBREAK FOR LANDO NORRIS AS HE SLIDES OFF THE TRACK AND LEWIS HAMILTON RETAKES THE LEAD ARLIER, 
SHORTLY AFTERWARDS, LANDO SLID OFF THE TRACK AND ADMITTED THAT HE NEEDED TO BOX

LEWIS'S TEAM RADIO AS HE OVERTAKES LANDO (BELOW)
LEWIS TOOK THE LEAD AND THERE WAS NO STOPPING HIM AFTER THAT, STORMING TO VICTORY THROUGH A SHIELD OF MIST. (HE USUALLY ALWAYS 'COMES INTO HIS OWN' IN THE WET CONDITIONS.)
LANDO'S HONEST AND OPEN INTERVIEW FOLLOWING THE RUSSIAN GRAND PRIX 2021
EVEN THOUGH LANDO WAS UNDERSTANDABLY VERY DISAPPOINTED AFTER THE RACE, THERE WAS NO BAD FEELING BETWEEN LEWIS AND HIMSELF AS THEY ARE BOTH GREAT PROFESSIONAL SPORTSMEN (BELOW)
AND, IN FACT, IMMEDIATELY AFTER THE RACE, LEWIS AND LANDO REACHED OUT TO EACH OTHER, IN A JOINT GESTURE OF CONGRATULATIONS AND COMMISERATION
LEWIS AND LANDO CHAT AFTER THE R

ACE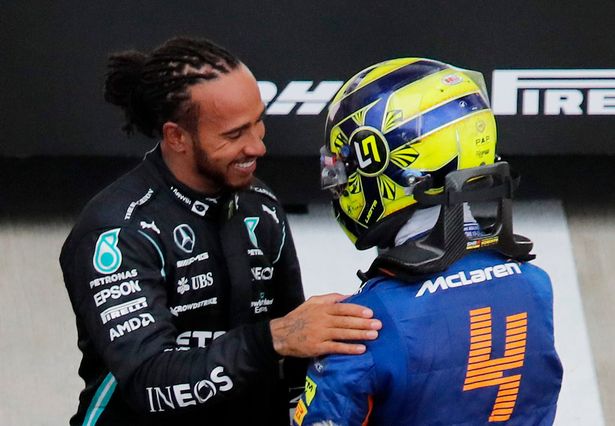 YET AGAIN, IT WAS ANOTHER EXHILARATING WEEKEND OF RACING AT SOCHI, WITH THE UTMOST CARE TAKEN FOR THE SAFETY OF THE DRIVERS (IN THE WET CONDITIONS)
WHICH LEADS US ONLY TO SAY ONCE AGAIN…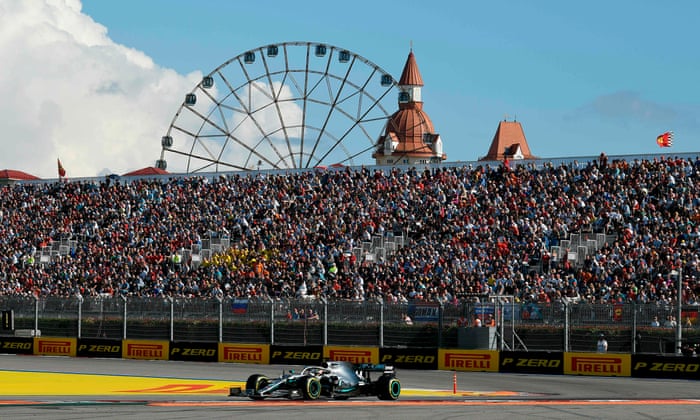 "SPASIBA RUSSIA" – THANK YOU!
Words by Amanda Waters