Many Congratulations To Anthony Joshua Who Successfully Defended His IBF, WBA (Super) and WBO Titles On 22 September 2018 In A Tough Fight Against Alexander Povetkin At Wembley Stadium.  
ANTHONY JOSHUA AND ALEXANDER POVETKIN 'FACE-OFF' BEFORE THE BOXING MATCH
ANTHONY JOSHUA VS ALEXANDER POVETKIN PRE-MATCH PRESS CONFERENCE
ANTHONY JOSHUA VS ALEXANDER POVETKIN WEIGH-IN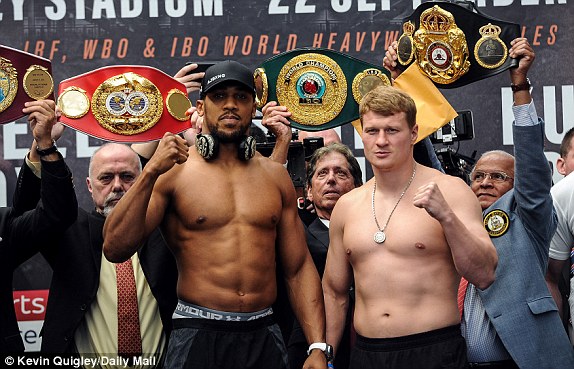 Dramatic, exciting, 'edge of your seat' stuff – such was the fantastic spectacle between Anthony Joshua and Alexander Povetkin at their boxing match last night at Wembley Stadium.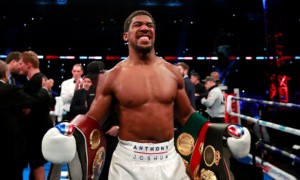 Musicians, Celebrities, Sports Stars, Families and the World's Media Were In Attendance (and did not mind at all standing in the pouring rain) to witness the fight.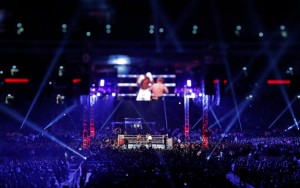 It was mesmerising when Anthony Joshua and Alexander Povetkin finally entered the ring together, after days of media interviews, promo videos, the 'weigh in' and other general media obligations.   Yet somehow these two gentlemen, were able to zone out from all the white noise, and focus on the job in hand, whilst maintaining the utmost respect for one another.  As Anthony Joshua said after the match "I have the utmost respect for Alexander, but I'm a beast in the ring," and Alexander had said earlier in the week "I respect Anthony and then I go into the ring and fight, and afterwards, I leave the ring and respect him again."  (Although, either at the beginning or end of each round, both men 'touched gloves' on the way in or out of their respective corners each time as a mark of respect, anyway.)
Indeed, as Anthony had said earlier in the week, he went in there to "have fun".  He said it was the term he used for outwitting your opponent, and that although it's about brute strength, when opponents are so highly skilled, that after all of the 'sizing up', 'ducking and diving', and 'bobbing and weaving',  when you do end up with a precise punch, it is a major accomplishment.  "You hit them and they sometimes nod, as if to say that was a great shot."  A sort of 'professional boxers code' if you like.
It was like poetry in motion watching these two fighters in the ring together. Both starting off on their toes, sizing each other up, working out each other's next move.
The obvious expertise of both men becoming immediately apparent, as with Alexander said to have been sparring in the mountains, and Anthony, said to have sparred more than ever before in Sheffield for this match.  Punches were sporadic at first, but towards the end of the round, Anthony had jabbed Alexander a few times, and Alexander had caught Anthony with a left hook, making him a little unsteady for a second.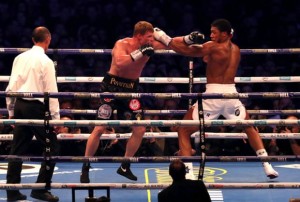 When Anthony came back out into Round 2, there was blood coming from his nose, with many speculating it could be broken. But Anthony stayed focused, even though Alexander kept 'coming in close' to take more shots, meaning Anthony needed to keep moving. Another right hook caught Anthony towards the end of the round, but still, both men 'touched gloves' at the end.
Alexander landed another right hook on Anthony in Round 3, then Anthony caught Alexander with two to three sharp shots of his own, then came more punches from Alexander, his experience clearly showing through at this point. Anthony got back into the round at the end though, with some well-placed powerful punches and a left hook.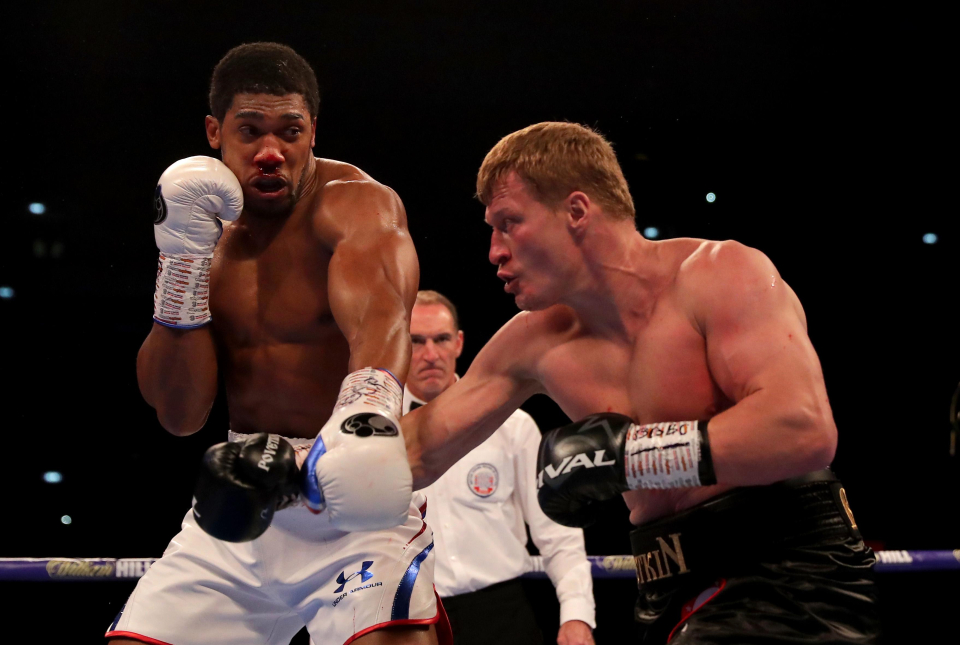 Shortly into Round 4, it became apparent that Alexander now had a big cut above his left eye, and had blood streaming down his face, with Anthony landing some solid shots to his body, and looking confident.  If Alexander tried to get too close to do any damage at this point, Anthony pushed him back to his 'comfort range'. Thereby being able to utilise the physical advantage of the length of his long reach.
As the men came out into Round 5, both 'touching gloves' again, Alexander came in close and caught Anthony with a couple of left hooks, followed by a big overhand right hook, but it was clear by this point that Anthony had 'come into his own', and had adjusted to Alexander's style.  Both men 'touched gloves' on the way back to their corners again at the end of the round.
Anthony wasn't wasting any unnecessary energy throwing early punches in Round 6, keeping his distance at first, but later landing strong shots, with Alexander not looking quite as active and 'on his toes' as he had been previously. Both men 'touched gloves' at the end of the round again.
Anthony came out looking really strong at the beginning of Round 7, with Alexander's eye by now looking very swollen.  Anthony jabbing Alexander's body and Alexander responding with a couple of right hooks at first.
Then, three quarters of the way through the round, Anthony delivered a series of punches to Alexander, which were so quick and powerful that they put him down onto the canvas.  Alexander, although looking stunned, stood back up again, wanting to go back into battle, but Anthony knocked him down again, putting him back onto the canvas, this time for good, as the referee declared the match over, supporting Alexander's head so that it did not hit the canvas.
Both of these men had the weight of their Countries expectations on their shoulders last night.  Anthony Joshua is one of Great Britain's Most Valued Sporting Heroes, and Alexander Povetkin is one of Russia's.
Both 'put themselves through the mill' for their Countries, with Anthony ploughing on and staying focused after his nose injury, and Alexander getting back up again after being knocked down to continue the fight – both not wanting to let their Countries down. 
Both men showed the utmost mutual respect for one another both in and out of the ring. 
Maybe it's time for all of us to "Touch Gloves" a little more….!
Words by Amanda Waters