THE RAMZEN CATWALK WAS A TRIBUTE TO MONACO
MONTE CARLO FASHION WEEK HIGHLIGHTS 2022
THE BRAND OF SAUDI DESIGNER ABDUL AL-ROMAIZAN,  WAS AWARDED WITH THE EMERGING DESIGNER FASHION AWARD AT MONTE-CARLO FASHION WEEK 2022 – THE MONEGASQUE FASHION WEEK BRINGS SUSTAINABLE, EMERGING AND INTERNATIONAL DESIGNERS TO THE CATWALK, MONTE CARLO 27 MAY 2022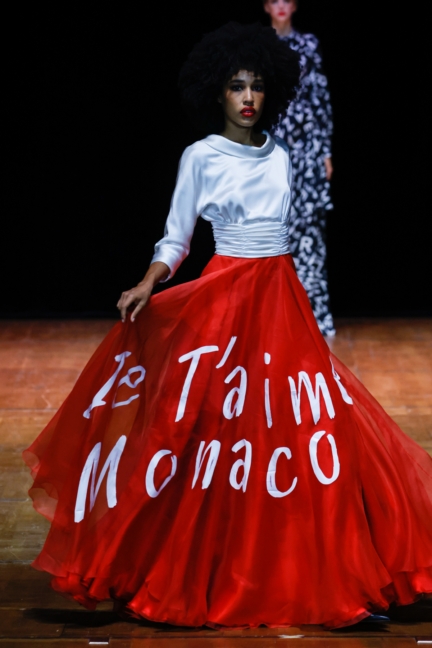 Ramzen Fashion Show
The Monte-Carlo Fashion Week, a reference point for ethical and sustainable fashion, showed on the catwalks the green and conscious trends of young international creators in an exceptional location, the Salle Garnier of the Monte-Carlo Opera, a historic and magical place.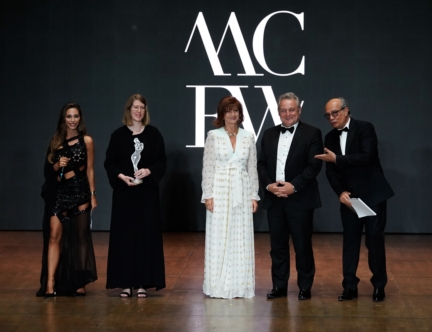 From left-to-right: Sofia Valleri Eva Zimmerman Polimoda Mireille Pietri CMM Jean-Philippe Muller IUM Maurizio Di Maggio. 
Starting with the creations of Beach & Cashmere Monaco which opened the dance with a collection inspired by the Phantom of the Opera, according to the creative mind of the brand, Federica Nardoni Spinetta, who is also President and Founder of the Chambre Monégasque de la Mode and of the Monte-Carlo Fashion Week.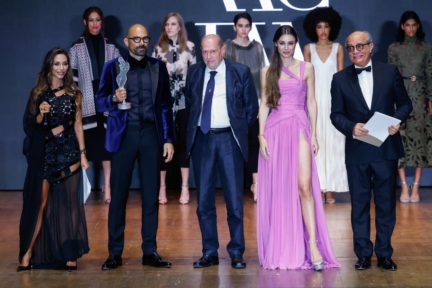 From left-to-right: Sofia Valleri Andreas Allenbach Crisoni Claudio Siffredi CMM Lara Leito Maurizio Di Maggio. 
The emotional fashion show was sublimated by opera singers Stefano Secco and Sarah Punga. Afterwards, spotlights lit the luxurious models of the eco-sustainable bags by Thalie Paris and the vision of femininity marked by gentle seduction according to Isabel Fargnoli.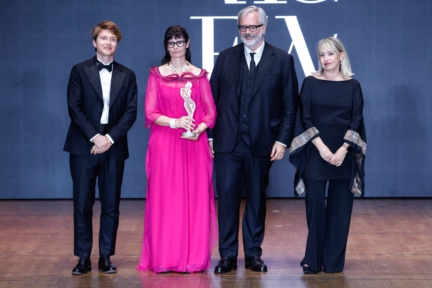 From left-to-right: Matteo Ward Maria Silvia Pazzi Regenesi Alberto Montanari Regenesi Rosanna Trinchese.
Freshness in a sophisticated key for the proposals of July of St. Barth and the rich and elegant caftans of Sora Byrd. The inspiration then took the route of the East with the Japanese brand Mitori Paris.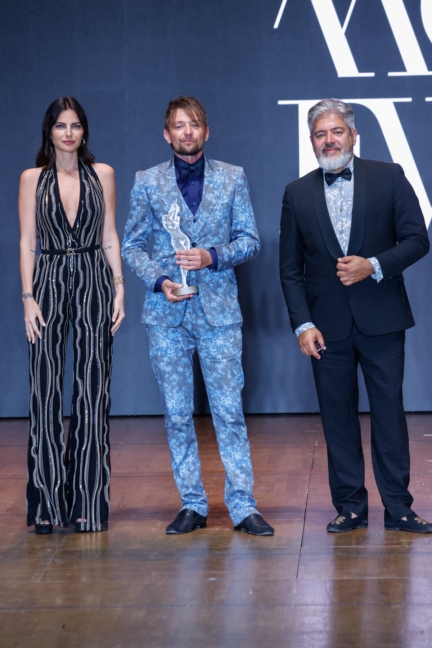 From left-to-right: Kelly Piquet Kristian Schmidt Marcos Marin.
The couture shoes by Daniele Giovani Design worn by exceptional guest, Eleonora Pedron, walked the catwalk. The elegant creations of Audrey Vallens preceded the conclusion sublimated by the contemporary proposals of the South American brands of Presente Ancestral, namely Ana Carolina Valencia, Xzae, Chanklas Atelier, and Ani Alvarez Calderon.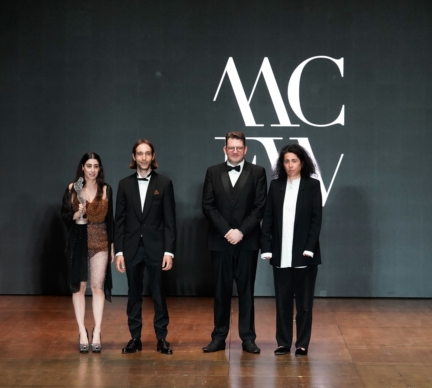 From left-to-right: Francesca Nori Verabuccia Fabrizio Moiani Verabuccia Terrence Bray Sara Sozzani Maino.
It was then the turn of the prêt-à-porter with a Mediterranean imprint by the young designer Gigi Carzaghi, of the enchanting art couture of Flavia Fleming in a concentration of femininity with an artistic DNA ennobled by the precious jewels of Stardust Monte-Carlo and last but not least, the optical art of Marcos Marin x Diana Mara.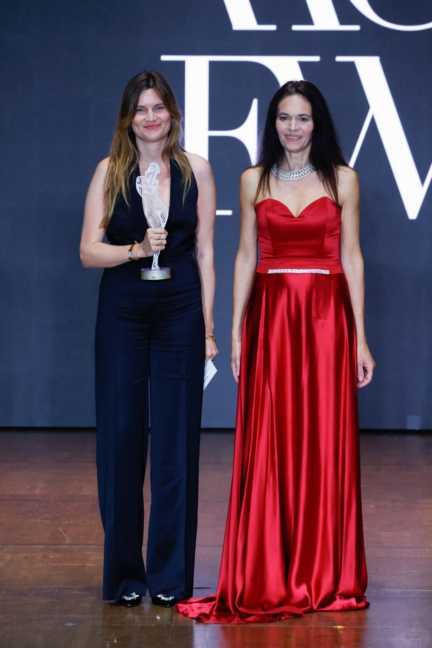 From left-to-right: Eugenie Trochu Vogue France Federica Nardoni Spinetta.